Gruppenbild der Schwestern Sr. Dominica und Sr. Martha mit Sr. Luise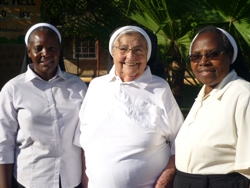 Beatrice Mukuka Mwila (Sr. Dominica)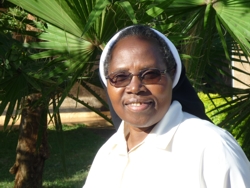 I am Sr. Dominica Mwila, a Zambian religious sister who joined the Dominican Missionary Sisters in 1975. I am a retired high school teacher as well as counselor and spiritual director. Ever since, I joined sisterhood, I have served in various capacities as a professed sister. Back home in Zambia, I spent seven years training our young sisters into our religious family. Then I spent many years in leadership ministry and in fact I was the first Zambian sister to become Regional Superior for the Dominican Sisters in Zambia. After leaving this high office, I was asked to be the national Executive Secretary General of the Zambia Association of Sisterhoods.
After these most interesting and busy years of my religious life, I was sure that I would go back to active counseling and spiritual direction but the Lord surprised me by asking me to be a missionary for the first time in my life! I was headed to Kenya in June 2013 to understudy one of our senior sisters, Sr. Luise Radlmeier who had done such wonderful work in Kenya for over thirty years! I was to work closely with her with the view to eventually take over as coordinator of projects. I knew it would be a challenge but I never once doubted that the Lord would make it possible. As I love children, I am energetic and full of zeal for any work, it was not a big deal to jump into this work!
However, I have ended up being the Director of our Technical and Agriculture Training Institute (TATI). Wow! I had not imagined myself doing such a job but I trusted that the Lord had a purpose for it. TATI is an institute that was basically started for the underprivileged of society. It offers training in Electrical and electronic, Carpentry and Joinery, Welding and Plumbing, Hairdressing and Beauty therapy, Tailoring and Organic farming. The latter goes with animal husbandry; poultry, fish farming and soon we hope to add rabbit rearing. Yes, this has meant learning how to be a good farmer by interacting with some experienced farmers to learn certain skills from them. I have had to be very creative so as to maximize on utilizing the land. When I see a little space I begin to plan what could be planted. So far I have planted more than fifty banana trees, forty pawpaw trees. We have also added passion fruit and water melons. This is in addition to the usual vegetables of various kinds. I am just surprised at how creative one can be in my situation even though funds always remain a challenge. We are determined to do our very best and so you will see from the pictures how we have tried to advertise TATI on the outer wall and now many people stop by and find out what we are all about. That way we are getting students who would not have known about us. Just now I look forward to my visit to Germany so that I can learn a little more from that experience.
Sr. Martha Chilambo OP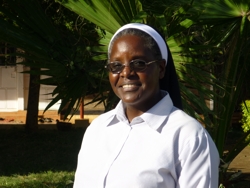 My short story
I am Sr. Martha Chilambo. Iam a Zambian but working in Kenya. I joined the Dominican Sisters in 1988 in Zambia upon completing my form five. I made my first proffession in 1991 and my perpetual vows in 1997.
Iam a teacher by proffession. I came to work in Kenya in 1998. I first worked in a government School in Thika Kenya and then went to do my under graduate studies in Education and majored in English language and religious studies in the year 2003 and finished in 2006 at the Catholic University of Eastern Africa.
Upon finishing my studies, I was sent to work with Sr. Luise in Juja farm to run St. James primary School. I have worked in this School for eight years.
I like teaching and working with young people. I have seen the School and all the projects in Juja farm grow and transform the place.
It is my sincere hope and prayer to give good and quality education to all the children who come to learn in our School.

Thank you and may God bless you all.
Zuletzt geändert am: May 11 2014 um 9:13 AM
Zurück